Do Men Have What It Takes To Be Our State Senators?
Women Have Risen
Even though a record number of women ran for the U.S. House, Senate and state legislatures last year — more than in any other election in U.S. history, men still have a right to lean in.  Men represent roughly half of the population in Connecticut and their voices need to be heard. These male candidates may have valuable insights to bring to the State Senate; they may have had previous experience as educators, small business owners, community organizers, or even held an elected office in their respective town governments. They might also have the moral and intellectual power, as well as a capacity for the great, the good, and the true in our democracy — just as much as the women who have held the office.
The Proverbial Bar
Men first ran for these Senate seats when they were established, but this is the first time in eight years that either of the seats representing Farmington will be held by a man. The 5th district seat was recently vacated by eight -year incumbent Beth Bye. After winning the November 2018 election, she was tapped by the Lamont Administration to lead the Office of Early Childhood Education. Four men — Jeff Przech, Derek Slap, Mark Stewart, and Bill Wadsworth — will try to measure up to the high bar set by Bye. The 6th district seat became vacant after another eight–year incumbent woman, Terry Gerratana, also resigned to join the Lamont administration. Two men, Rick Lopes and Gennaro Bizzarro are running to fill that lofty seat.

The Connecticut State Senate is the upper house of the Connecticut General Assembly, the state legislature of the State of Connecticut. District 5 includes Burlington, West Hartford and portions of Bloomfield and Farmington, except the southeastern portion (see below). The 6th Senate District, consisting of Berlin, New Britain and the part of Farmington in the "Rhino" section.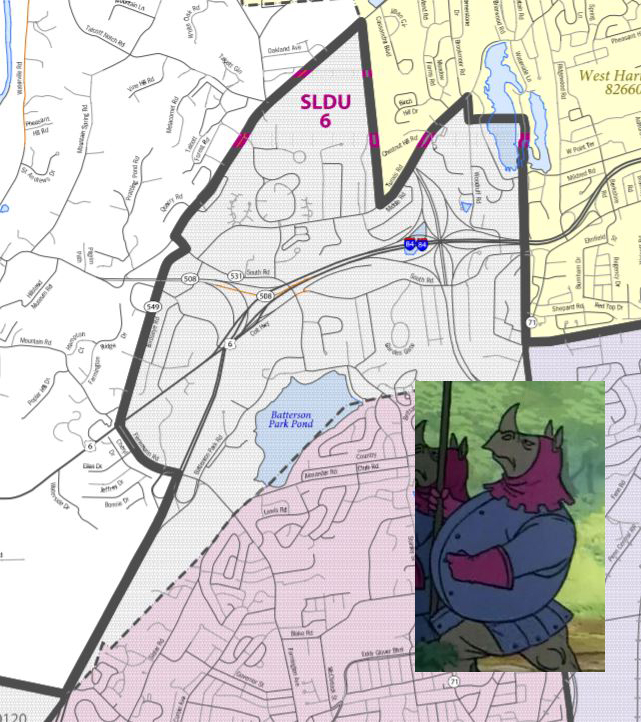 The Abilities of Men
One of the personal issues that the winning men will have to face is that State Senators receive and annual salary of only $28,000 a year, which translates into roughly $13.46 an hour. This is only slightly above a livable wage for a single person in Hartford County. Without prying into the situations of these men, it is safe to say that they will likely need the financial support of a spouse, especially if they have children living at home. That or they will need to have a side job to make sure they own a decent pair of shoes. Their predecessors shoes will be hard to fill.
Up For Debate
A candidate debate for the District 5 seat will be held in the Farmington High School Cafeteria on Wednesday, February 20, 2019 at 7 pm.  The debate will be conducted and moderated by the FHS Political Action Club and Student Council.
The special election is set for February 26, 2019. Voting will be at your regular polling places in Farmington.
You can also search for your legislators here.