Demolish Historic Buildings Because, "Who Cares?"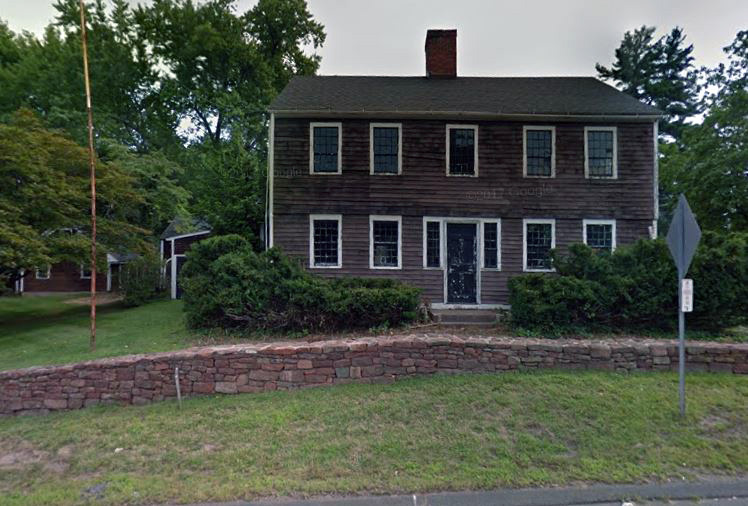 FARMINGTON CENTER – Demolition continues along Farmington Avenue as outside developers seek to remove all traces of authentic charm and history and try to create an ersatz "Disney" version of the 18th century in Farmington.  Why restore a historic three-hundred year old building when you can knock it down and build a new one?
Historians Gone Hysterical
The folks who created Brick Walk Shops out of historic buildings were crazy! Why put together a village schoolhouse, the old Tunxis Library, and numerous other (painstakingly moved) historic buildings and create a charming shopping area filled with locally owned businesses? Why reuse the bricks from the tiny, old Town Clerk's building to make a true "brick" walk? A modern strip mall could have been built in its place, with long swaths of faux concrete bricks.  It's a shame that didn't happen.
Miss Porter's clearly has it all wrong, too. Restoring the charm of old is a waste of money.  Why does Miss Porter's school continue to preserve and restore so many wonderful historic buildings in the village? The 1777 Grist Mill, as one example, was in terrible shape and looked as though it would soon fall into the river, but you have to be in the river to see the beautiful work they have done.  What a waste!
And why are the members of First Church trying to keep the exterior of the Meetinghouse looking like it did in 1772?  A building which, during the Revolutionary War, almost became a refuge for the General Assembly when resources in Hartford became scarce. A building in which the freed Amistad captives were welcomed and their farewell service held before their return to Sierra Leone.  Their worship services are held inside the building, along with community concerts, lectures, weddings, etc.  Who cares about the outside?  Throw some cheap vinyl siding on it, vinyl windows, a faux slate roof, and call it a day.
The Real Heroes
Thank you, "Insite Retail Development" for tearing down a beautiful historic home (The 1799 Lewis House) built by one of our most famous architects and builders, Judah Woodruff, to make way for a faux historic building (a bank next to two other banks no less). The gigantic sign on it is a most authentic touch.
Thank you, "788 Farmington Ave. LLC", for tearing down a charming, historic building (old Chuck's Steak House) to build the over-priced monstrosity  named "The Pennington", a name which ironically means "penny settlement".  You will easily find twelve up-and-coming hedge fund managers to shell out $760,000 for a two-bedroom condo and up to $850,000 for a three-bedroom condo.
We at the Farmington Mirror are most grateful to these, and all the other developers, as we have NO interest in remembering the town history which made those homes special before you purchased them and let them fall into ruin before our very eyes.
The Townspeople Have It Wrong
Farmington has ONLY SIX organizations which struggle to preserve our town and educate our citizens about its history: The Farmington Village Green and Library Association (including Farmington Library, Barney Library, Memento Mori Cemeterty, Stanley-Whitman House, and Farmington Town Green), The Farmington Historical Society, the Unionville Museum,  The Hill-Stead Museum, The Farmington Land Trust, and the Lewis – Walpole Library.  All of these organizations work tirelessly to maintain what George Washington called a "village of pretty houses", especially the properties which are not included under the Town's Historic Districts. Their work doesn't mean a thing if there is a buck to be made by outside investors.
And what about the townspeople?  Hundreds attended the charrettes in 2014-2015 to give input on the vision for Farmington Center.   Was charm and history the order of the day? Surely the cry went out, "Bulldoze everything.  We want it to look like Blue Back Square, dagnabbit! (Oh, and we want to keep the Bank of America building as we like the look of a concrete garbage can)."
More Demolition!  *Yippee!*
Coming up next — 1 Waterville Road (brown house on corner of Rt.4 and Waterville Road), also known as  820 Farmington Avenue or the Woodford-Newell-Strong house. On January 19, 2018 a demolition permit was applied for by the owners, One Waterville Road LLC.
The Woodford-Newell-Strong house, has origins in 1665, a mere twenty years after Farmington's incorporation. Its inhabitants lived much of our nation's history at this major crossroad. The original owner of the property was, in fact, the Governor of the Connecticut Colony, John Webster.
Who cares?
Knock it down!
One of its inhabitants, Susan North Strong, wrote letters about her experiences in Farmington from 1775-1802, including the first time her mother made tea (she boiled it, strained out the water, and served the cooked leaves), and of the colonies on the verge of war ("News has just come that our men highest in authority, or, Congress, as they are called, have decided to be independent of England!")
Who cares?
Knock it down!
Other inhabitants, Dr. Chauncy and Mrs. Julia Strong Brown, were, in 1841, caregivers for one of the children from the Amistad after the Supreme Court ruled "the Africans on board the Amistad were free individuals. Kidnapped and transported illegally, they had never been slaves." They gave shelter to a child until she was able to return to her native land.
Who cares?
Knock it down!
Please. Whatever you do.
DO NOT write to Town Hall at the address below on or before February 14, 2018 and oppose this demolition:
Christopher Foryan
Town of Farmington
Farmington Town Hall
1 Monteith Drive
Farmington, CT 06032
foryanc@farmington-ct.org
DO NOT use the following text as a framework for your opposition:
     I am writing in opposition to the demolition of the property known as 1 Waterville Road or, historically, the Woodford-Newell-Strong house. I have been watching as a developer allowed the house fall into ruin; windows broke apart with no effort to seal out the elements, gutters were left in disrepair allowing for water damage. This property is in a highly visible intersection of town and should be preserved in its truest form.
     How is it that  "J. Timothy's" in Plainville was able to keep the historic integrity of that building on a prominent corner and turn it into a successful business in spite of the fact that the surrounding area is nothing but strip mall? Is our town not capable of even more success?  Can the building not be restored with tasteful additions added?
     The parcel attached to 1 Waterville Road  at 1 Canal Path (also up for demolition) was built in the 1950's (cluster of small white houses).  Can newer structures built within the regulations of Farmington Center be built without demolishing 350 years of our town's history?  
     I urge you to deny the demolition permit and demand that the owners endeavor a new strategy for the parcel.  I assure you that, if that building is destroyed, the business in the new building will get no business from me or anyone I know.
Please don't send that.  Because, who cares?